Love
your neighbor
as yourself
COME WORSHIP
SUNDAYS AT 11:00 AM
Christ Church United Methodist | 54 Bay Street, Glens Falls, NY 12801
At Christ Church, all are welcome to worship. Come as you are and experience a message of faith and hope.
About Christ Church
When someone asked Jesus which commandment is the greatest, he gave two: "Love God with your heart, soul, mind and strength, and love your neighbor as yourself." Our name – Christ Church – reminds us that we are Christ's church, a community belonging to Jesus. We are not our own. Our purpose is to love God and love our neighbor in all that we do. Welcome to Christ Church!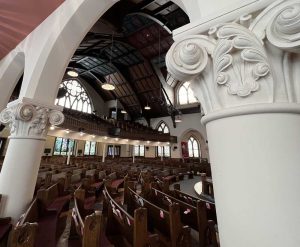 First Time Visitors
As you browse this site, we hope you find a connection and would like to visit. Come and check us out. We've saved you a seat. Here in Christ all are Welcome!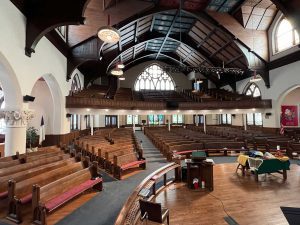 Frequently Asked Questions
Where do I enter the sanctuary? Enter through the Washington Street or Bay Street doors.
Is the church handicapped accessible? The church office entrance at the rear of the building is accessible. Although this door isn't monitored on Sundays, if you make prior arrangements with the church office you will be greeted at the office door and escorted to the sanctuary.
What is a typical Sunday service? The11:00 am worship is held in the sanctuary and contains many traditional elements – a choir, hymns, a children's message, scripture, a sermon and the Lord's Prayer.
What to wear? Come as you are. Dress formal or sport your favorite t-shirt and shorts, It's not about your clothes, it's about your heart.
Are children welcome in the sanctuary during Sunday service? Children are always welcome. The Sunday service includes a Children's Message. Children will be asked to come forward at this time. After the Children's message, they can follow the Sunday school teachers to age-appropriate small groups or remain with their family in the sanctuary. Hang out with family or participate, the choice is theirs.
If I'm not a member of the church, can I receive communion? All are invited to receive communion. Communion is part of the first Sunday service of each month. If you cannot come forward, but would like to receive communion, communion will be brought to you.
Can I view the service online? We know people have busy lives and sometimes they cannot make it to the church on Sunday. Sunday services are available on YouTube at https://www.youtube.com/@glensfallschristchurch/streams.
Whether you prefer to attend church in person or online, if you are looking for a place of faith, consider making Christ Church your church home. Please contact the church office with any questions or concerns.